Shuttle Options for Half Zoo-De-Mack Ride & From Mackinac City to Boyne Highlands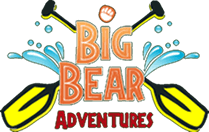 Big Bear Adventures, Inc. has been the official Zoo-De-Mack transportation since 1992. They offer convenient options to get riders, their bikes and their luggage to their cars for a small fee and accept payment by credit card over the phone. They will also take reservations during registration on Friday night in the lobby of the Zoo Bar and Saturday morning under the tent in the ski area parking lot (payment by cash and check only). Space is limited on all shuttles and therefore should be reserved in advance.
FOR SHUTTLE OPTIONS FROM:
> MACKINAW CITY TO HIGHLANDS OF HARBOR SPRINGS (BOYNE HIGHLANDS)
> FROM BOYNE HIGHLANDS TO MACKINAC CITY
> SHUTTLE TO & FROM LEGS IN (HALF-WAY SPOT)
BOOK YOUR 2023 SHUTTLE TICKET!

RESERVE EARLY - THEY SELL OUT QUICKLY!
For additional questions and information, or for any miscellaneous transportation needs please call 231.238.8181 or email [email protected]